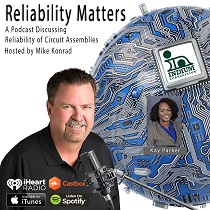 Indium's Kay Parker discusses SMT solder paste printing and her experience as a new engineer in the electronics assembly industry with Mike Konrad.
Kay is a technical support engineer based at Indium headquarters in Clinton, NY. In this role, she provides guidance and recommendations to customers related to process steps, equipment, techniques, and materials. She is also responsible for servicing the company's existing accounts and retaining new business. She joined Indium as a college intern. During her internship, she worked alongside process engineers in Indium's Metals and Compounds division. After graduating from the State University of New York Polytechnic Institute in 2018, Kay joined the company as a technical support engineer.
At SUNY Poly, Kay earned a bachelor's degree in applied mathematics with a minor in engineering science. Her past accomplishments include managing the details of a National Science Foundation grant, forming and leading an award-winning competitive student robotics club, developing industrial manufacturing process technologies, and modeling the flow of blood in the human eye using mathematical equations and computer programs.